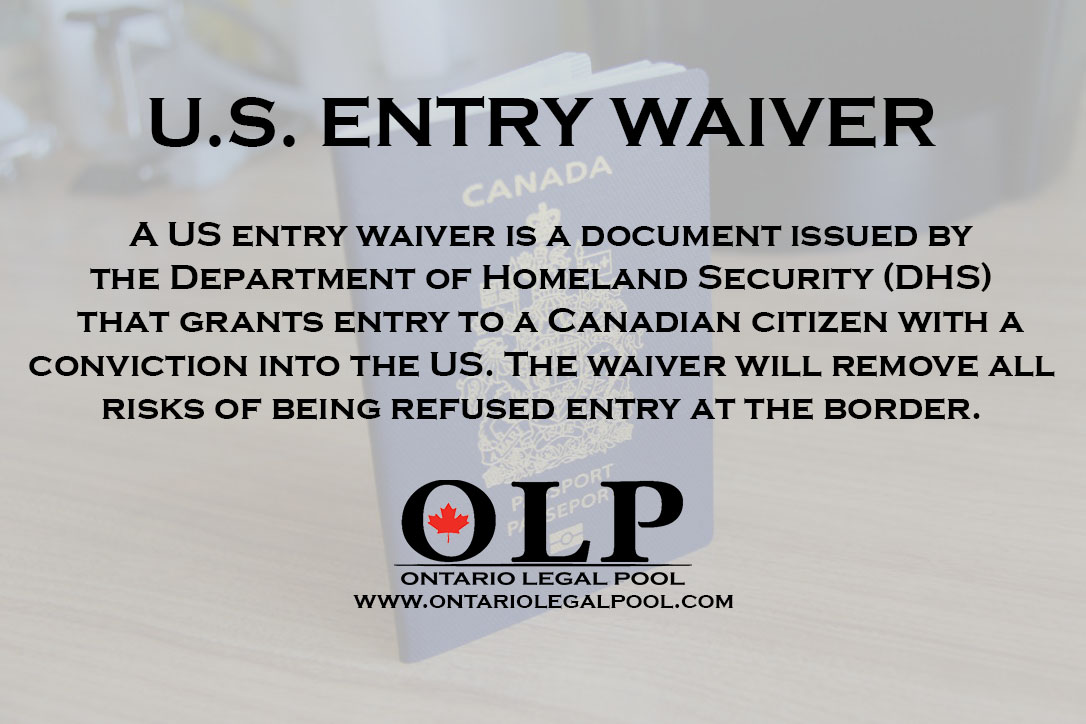 US Entry Waiver
What is a US entry waiver?
A US entry waiver is a document issued by the Department of Homeland Security (DHS) that grants entry
to a Canadian citizen with a conviction into the US. The waiver will remove all risks of being refused entry
at the border. Because the DHS is considered a "superior governing body" to the border guards, it
overrides any discretion the guards might have when you try to cross the border.
A US entry waiver can be granted for a period of one (1), two (2) or five (5) years by the US Government
and can be renewed. (It is recommended you start the renewal process six months prior to the expiry of
your US entry waiver.) The length of the waiver normally depends on the extent or seriousness of the
crimes you have committed and the period of time that has elapsed since conviction. Once you have
received your US entry waiver, you will be legally permitted to enter the US despite your criminal record.
N.B. This rule only applies to the US. You may not be prevented from travelling to other countries around the
world. However, if your method of travelling to another country is flying, you will still be prevented from landing
in the United States to do a flight transfer.
The difference between getting a record suspension (pardon) and a US entry waiver
Depending on your situation, you might need 1) a record suspension (pardon) and/or 2) a US entry
waiver. If you have never been refused entry into the US for having a criminal record, a Canadian record
suspension may suffice to enter the US.
However, if you have been denied entry at the border for a criminal record, you will need a US entry
waiver. If you have been stopped at the border and were refused entry because of your criminal record,
your record will forever stay in the US Department of Homeland Security criminal database. Canadian
pardons are not recognized by the US government if they are aware of your conviction, but US entry
waivers are recognized.
If you have not been refused entry prior to getting your record suspension, the border guards and the
Department of Homeland Security may not know of your previous criminal record, unless you tell them
at the border.
If you or someone you know needs assistance with crossing the border, contact Ontario Legal Pool today.