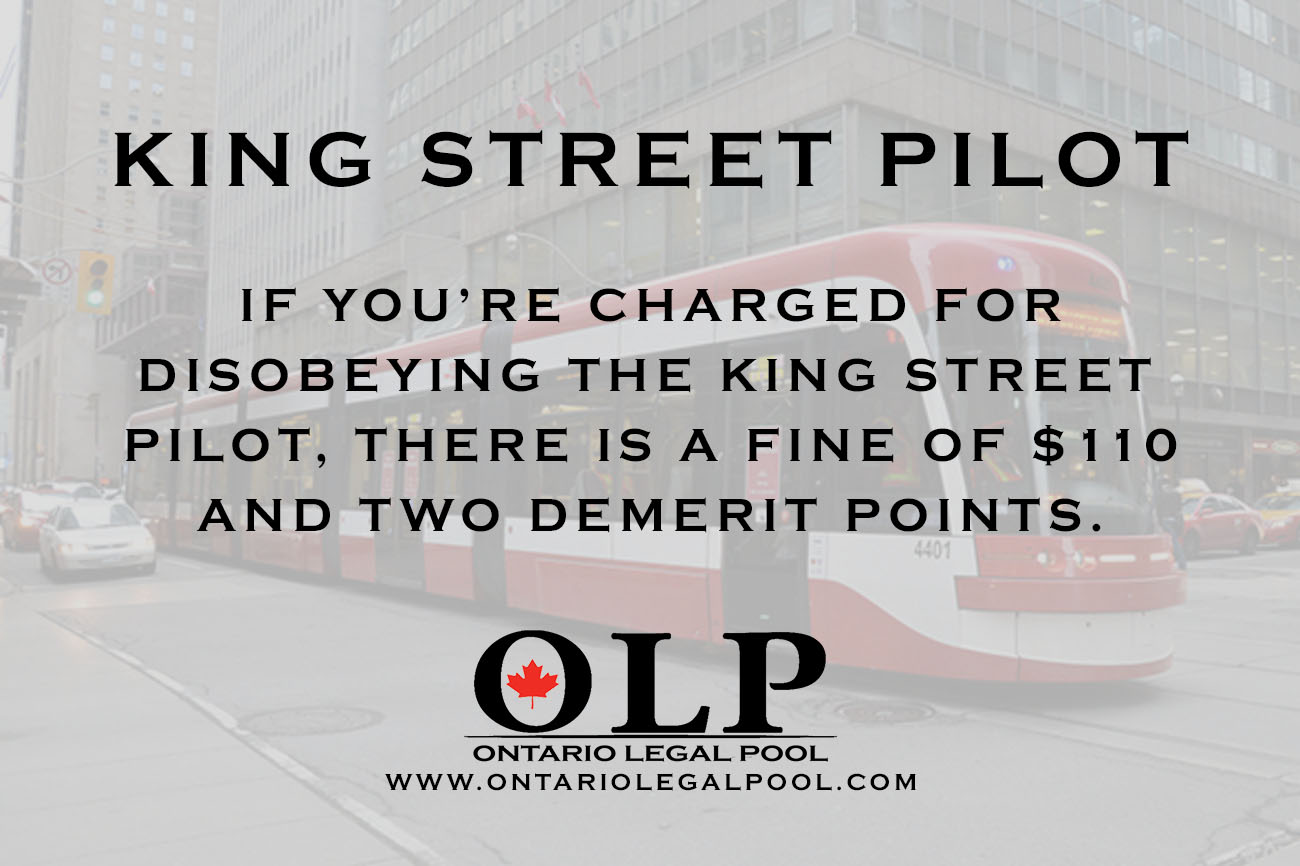 King Street Pilot
The King Street Transit Pilot between Bathurst Street and Jarvis Street is about putting people and transit first by improving transit reliability, speed, and capacity. King Street is the busiest surface transit route in the city, moving more than 65,000 riders on an average weekday. The pilot is changing how King Street works, by not allowing through movement at most intersections for private vehicles and providing priority to streetcars. Local access for vehicles will be maintained on a block by block basis.
Drivers
Traffic at Bathurst Street
Vehicles on King Street are not allowed to drive through the Bathurst Street intersection. At the intersection, vehicles must turn left or right.
Traffic at Jarvis Street
Vehicles on King Street are not allowed to drive through the Jarvis Street intersection. At the intersection, vehicles must turn left or right.
Right Turns on and off of King Street
Vehicles turning right onto King Street must turn into the streetcar lane. Vehicles turning right off of King Street must use the right turn lane.
No Through Traffic
Vehicles are not allowed to drive through the intersection except for TTC vehicles, emergency vehicles, road maintenance vehicles and bicycles. Taxis are allowed to travel through the intersections between 10 p.m. and 5 a.m.
Parking on King Street
There is no on-street parking in the pilot area. Parking is available on some side streets and in parking lots and garages near King Street.
No Left Turn
Left turns from intersections in the King Street pilot area are not allowed.
Driveway Access
Access to driveways is maintained throughout the pilot area.
North-South Traffic
Vehicles travelling on north-south streets can still cross King Street.
Advance Right Turn Green Arrow Signal
At some intersections, there will be an advanced right turn green arrow for vehicles. These arrows are new, so please be careful as you make the turn and watch for pedestrians.
Accessing your destination on King Street
Enter King Street via the closest north-south street which gets you on the same side of the street as the address you are looking for. Use parallel streets to access different points on King Street (Richmond Street, Adelaide Street, Wellington Street, Front Street, Lake Shore Boulevard or the Gardiner Expressway).
Taxis
There are dedicated on-street taxi spaces for passenger pick-ups/standing. From 10 p.m. to 5 a.m., taxis are allowed to travel through the intersections. At all other times, taxis must follow the same regulations as other motorists.
Passenger Pick Up/Drop Off & Deliveries
Passenger Pick up/Drop off, Loading and Deliveries
There are dedicated on-street spaces for passenger pick-up and drop-off, as well as short-term loading and deliveries. Standing and/or parking is not allowed.
Accessible Loading
There are dedicated on-street spaces for accessible passenger loading. Vehicles with an accessible permit are allowed to stop to pick-up and drop-off passengers.
Cyclists
Bicycling
Cyclists are allowed to continue to use King Street, travelling straight through at intersections.
Bike Boxes
Bike boxes are designated spaces to help cyclists make left turns from King Street. They are located at two intersections where there are north-south streets with bike lanes: King at Peter and King at Simcoe. Cyclists should wait in the boxes in front of cars at a red light, and then turn north or south when the light turns green.
Ridesharing Users
Ridesharing vehicles are subject to the same restrictions as all other motor vehicles on King Street.
Ridesharing users should arrange to wait on other streets, if possible.
Transit Riders
Streetcar stops have moved to the far side of each intersection, with protected passenger waiting areas in the curb lane. There are two locations where streetcar stops will remain on the near side of the intersection, on the sidewalks: King at Bathurst (north side) and King at Portland (north side).
If you or someone you know has been charged with driving the king street pilot, contact Ontario Legal Pool today to have it resolved.